Born in 1749 in the village of Whickham, William Shield was apprenticed to a boat builder in North Shields. He studied music under Charles Avison, soon to become his best pupil and eventually the leader of the Newcastle Subscription Concert Orchestra founded by Avison.
After Avison's death in 1770, he joined a theatrical touring company as a violinist. During a performance in Scarborough, the violinist Felice de Giardini heard him play and encouraged him to go to London.
In 1775 he joined the King's theatre orchestra playing the violin and the viola, a post that he held for 18 years. It was during this period that Shield showed his genius for arranging and composing music, his first opera "The Fletch of Bacon" was performed in 1778.
Borrowing music from the works of other composers and the folk music of his native Northumberland, Shield showed great aptitude in constructing the composite scores of the songs (like The Plougboy, The Thorn and The Wolf) and the incidential music required by light operas.
The leading authority on opera during this period Roger Fiske, describes Shield's music as "sublimated folk song" together with a "pleasing innocence and a thorough knowledge of orchestral instruments".
Possibly his best known opera is "Rosina" which made its debut in 1782 at Covent Garden and had over 100 performances within the next five years. Towards the end of this overture Shield uses the oboe and bassoon to imitate the bagpipe, some say that the tune played by these instruments is remenisant to that of "Auld Lang Syne".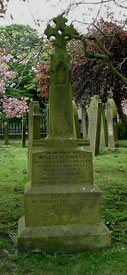 Shield's interest in traditional music is possibly the reason for helping his Stockton born friend John Ritson to publish a book of English traditional songs in 1783. This was soon followed by 4 volumes of Scottish songs in 1784.
Shield started work on two books one called "Introduction to Harmony" which was published in 1800, and subsequently "Rudiments of Thorough Bass" published in 1815. Whilst both of these books are good for instruction purposes, each included many musical examples. Shield wanted the reader to appreciate these examples on their own merit and hence to avoid prejudice he did not reveal their source.
One such example was the Prelude in D minor from Bach's "48 Preludes and Fugues", this was the first time that any work from this collection appeared in print.
In 1817 he was appointed the Master of the King's Music and becoming very stout, he spent the remainder of his life as an antiquary collecting books on music. He died at the age of eighty in 1829 and is buried in Westminster Abbey.
Above left is the memorial to William Shield erected in St. Mary's churchyard Whickham, Newcastle upon Tyne.